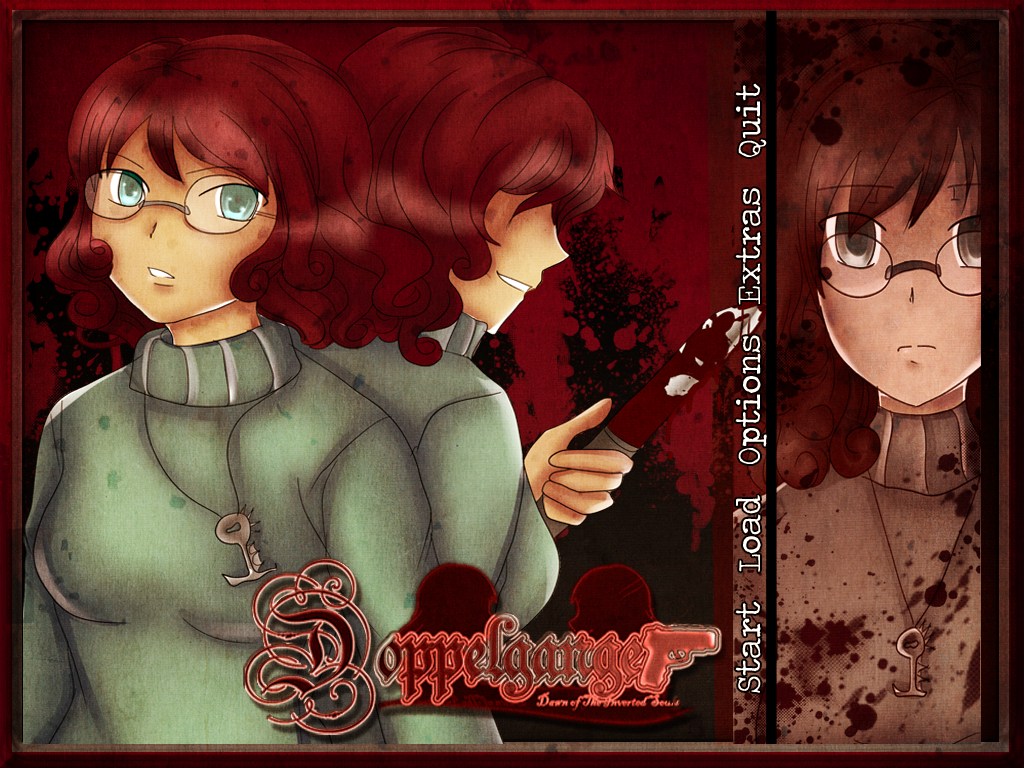 Doppelganger : Dawn of the Inverted Soul
A downloadable game for Windows
A FREE Dark Supernatural Game
Storyline:

After her sister Bertha's death, Lucia Nicol is struggling to follow her footsteps. She becomes a self-centered person who will do anything to replace Bertha's position in her family. Her actions made her schoolmates to loathe and bully her, thus leading to an unexpected event. One by one, the schoolmates who bullied her were attacked and suddenly she became the main suspect. After those events, she found out that she was able to see people who can't be seen by "normal" people, and uncover the dark, insane truth of an entity called "Doppelganger". Her life is suddenly in danger, and those people she normally trusts suddenly don't look so kind any more…

Play as Lucia as you struggle to escape your fate; dying or living a life where you will certainly wish you are dead…

Genre : Mystery, Psychological Thriller, Drama, Romance, Supernatural
Rating : 16+ for violence and blood
Features
- Over 80+ CGs + original bonus artworks
- Over 260.000 words and 5+ hours of total gameplay
- Three unlockable videos
- Five different unlockable paths + one "final" path
- 29 endings. Most endings have CGs, and the "good" or "bad"ness of the endings depends on your own interpretation, so I can't determine.
- Changing main menus depending on the endings you picked
- 21+ characters, and believe me they are all important in some ways
- Completely free, no profits taken. If you bought this, you've been scammed.
- Sh*tbrick. Really. Ask the beta-testers. May vary whether you've seen it coming or not.

Walkthrough : https://lemmasoft.renai.us/forums/download/file.php?id=17302
The game is complete, was released on 2013 and no further updates will be made.

PC only atm, Mac is untested.
This game is made by azurextwilight (Writer, artist) and Coren (Co-writer).
Install instructions
Enable pop-up in order to download this file from the mediafire mirror
Download
Download
http://download752.mediafire.com/5yrqiw3415mg/bf3h0hdelspx7b2/Doppelganger_DoTIS-1.1-all-install.exe
Comments
Log in with itch.io to leave a comment.
this game doessnt even work it download's nothing.
Ah...how nostalgic...i hope to see your visual novel again in the future!
I absolutely adore your work! Doppelganger got me hooked, I don't know how you make the storyline so captivating but damn. I love how you built up the depth of the characters and the different perspectives change the 'truth'. Thank you for all of this!

YOUR GAME IS AWESOMEEE!! Wishin' I could me you in person to give you a hug (if thats not creepy) though I am so far. Thank you for making these Vn's. I really appreciate your creation.
Thank you so much AAAAAAAA
Do you know some site where I could listen to red moon or white moon (clifford and shuangs theme)?
This is really a masterpiece. I just cant bare to complete all the endings cuz I dont want stop. The plot is amazing and the creator is amazing as well. I really appreciate your works and effort. This is the otome game that I will never forget. Thank you
Aw, you made me tear up! Thank you so much for playing the game and supporting me as creator! =D *also do play my other games*
I just really find you amazing and brilliant. I envy you for having such a great mind.
*I like the character of Neo Marshall and Lee I hope they're real hahaha*
Awww shucks~ Thanks again!
Played this I think four years ago from Ren'Pys games list upon a friend's recommendation. The first VN I've ever played but it's now still one of my favorites (after playing a LOT). It was part of a sort of VN library I kept in my old laptop, that stopped working, so I'm ecstatic seeing this online again. Great character sprites, emotional opening vids, HUGE variety of endings, AMAZING FINAL ENDINGS, and beautiful music. 100/10 recommend.

Hi there! I tried downloading this game today and it seems to not be working. The download page appears but nothing actually...downloads. Thought you should know!
FIRST! Wow this really brings back memories. I really enjoyed making this with you, Azure!